Iowa State Flags - Nylon & Polyester - 2' x 3' to 5' x 8'
Write a Review
|
Product Code:
60-100-10307
2' x 3' - Nylon - PN: 60-100-10307
Price $29.00
3' x 5' - Nylon - PN: 64-100-10030
Price $41.00
3' x 5' - Polyester - PN: 64-100-10410
Price $55.49
4' x 6' - Polyester - PN: 64-100-10457
Price $63.27
4' x 6' - Nylon - PN: 60-100-10031
Price $69.49
5' x 8' - Nylon - PN: 60-100-10175
Price $91.49
5' x 8' - Polyester - PN: 64-100-53005
Price $95.10
2' x 3' - Nylon - PN: 60-100-10307
Your Price $29.00
Accessories
U.S. Flag Set - 2' x 3' Embroidered Nylon Flag and 6' Spinning Flag Pole
6' Spinning Residential Flag - Pole Only
2-Way Flag Pole Bracket - White Nylon
Outdoor Nylon US State Flag
U.S. Flag Store's Iowa State Flag is printed in America on Nylon flag fabric. Since this flag is made in America, U.S. Flag Store is able to ensure that the complex State emblems are printed with accuracy, sharp detail and bright colors. This outdoor Iowa State Flag is finished with the same high quality materials as all of U.S. Flag Store's US flags, and is extremely durable and long lasting.
State of Iowa Flag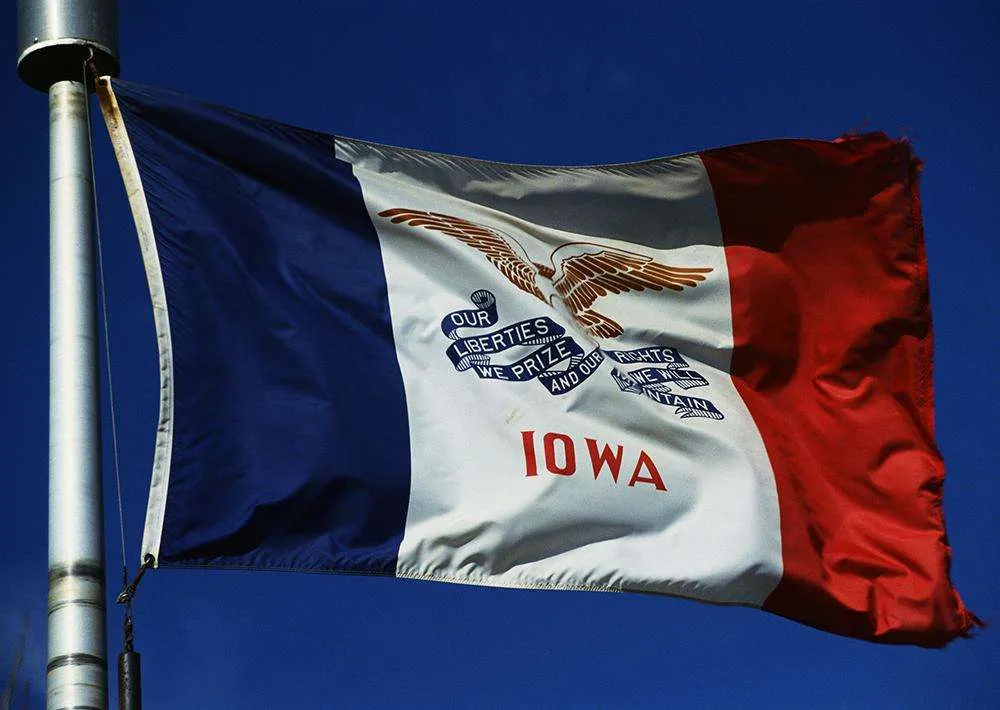 State of Iowa Flag
Year First Flown: 1921

Designed By: Mrs. Dixie Cornell Gebhardt

Design: The Iowa state flag consists of three horizontal colored red, white, and blue. The left stripe is blue and the right stripe is red, and those two stripes are the same size. The middle white stripe is wider than the other two stripes and contains an illustration of a bald eagle carrying a red ribbon. Written on the ribbon is Iowa's state motto "Our Liberties We Prize and Our Rights We Will Maintain".

Meaning: The flag's layout and color scheme is similar to the French national flag, representing Iowa's ties to France before the Louisiana Purchase. The blue stripe is a sign of loyalty and truth, the white stripe represents purity, and the red symbolizes courage and strength. The bald eagle signifies Iowa's loyalty to the United States of America.
History of the Flag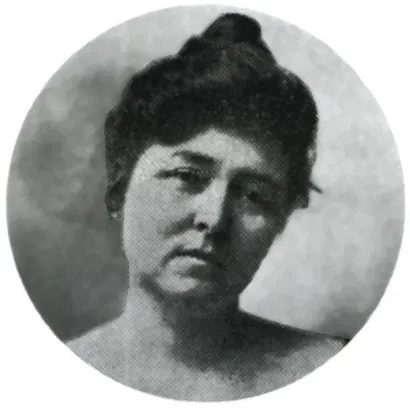 Iowa was first made a State of the Union on December 28th, 1846. The citizens of Iowa never got around to creating a state flag in the years before the Civil War, and after the Civil War ended they still weren't in a huge hurry to adopt one. Iowans felt that the stars and stripes of the American Flag appropriately represented ALL of the U.S. states, especially after the Civil War came to an end and America was reunited. When America entered World War I, the Iowa National Guardsmen stationed along the Mexican border realized that units from other states carried banners recognizing their homes. The Iowa Guardsmen felt that they too should have a flag to identify their origins, and when Governor Harding found out about the situation he immediately ordered that Iowa create a state banner. Luckily, the Daughters of the American Revolution (DAR) came to the rescue with a flag committee headed by Mrs. Lue Prentiss. The DAR flag committee held a design contest, and in May of 1917 the five top designs were offered to Governor Harding. The flag design that Harding ultimately chose belongs to Mrs. Dixie Cornell Gebhardt, a member of the Des Moines chapter of the Daughters of the American Revolution. The flag was created and given to the Iowa Guardsmen to fly at their station, and on March 21st of 1921 it was officially adopted at the Iowa state flag.
Symbolism of the Flag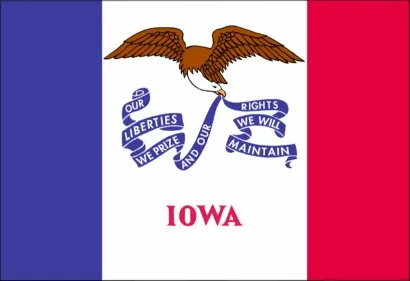 After Mrs. Gebhardt's design was chosen as the Iowa state flag, she explained her design and what it meant for the state of Iowa. She said: "Iowa's banner should embrace the history of its domain from the time of its occupation by the Indians to discovery by the French and purchase from Napoleon by Jefferson, to its admission into the Union, down to the present time. All this should be represented in a design so simple that school children and adults can recognize its symbolism and know that it meant Iowa." The colors also had a specific meaning for Iowa, even though they were the same colors used in the French National Flag. Gebhardt used White to symbolize purity, blue to represent loyalty and justice, and red to signify courage and strength. She also added an American Bald Eagle to show Iowa's devotion to the United States of America.