Maryland State Flags - Nylon & Polyester - 2' x 3' to 5' x 8'
Write a Review
|
Product Code:
64-100-04159
Maryland State Stick Flag 4" x 6" - Endura-Gloss - 144 Minimum Order - PN: 64-100-04159
Price $3.09
2' x 3' - Nylon - PN: 60-100-10262
Price $29.00
3' x 5' - Nylon - PN: 64-100-10040
Price $41.00
3' x 5' - Polyester - PN: 64-100-10415
Price $48.13
4' x 6' - Nylon - PN: 60-100-10041
Price $69.49
4' x 6' - Polyester - PN: 64-100-10462
Price $82.95
5' x 8' - Nylon - PN: 60-100-10218
Price $91.49
5' x 8' - Polyester - PN: 64-100-10518
Price $129.95
Maryland State Stick Flag 4" x 6" - Endura-Gloss - 144 Minimum Order - PN: 64-100-04159
Your Price $3.09
Accessories
U.S. Flag Set - 2' x 3' Embroidered Nylon Flag and 6' Spinning Flag Pole
6' Spinning Residential Flag - Pole Only
2-Way Flag Pole Bracket - White Nylon
Outdoor Nylon US State Flag
U.S. Flag Store's Maryland State Flag is printed in America on Nylon flag fabric. Since this flag is made in America, U.S. Flag Store is able to ensure that the complex State emblems are printed with accuracy, sharp detail and bright colors. This outdoor Maryland State Flag is finished with the same high quality materials as all of U.S. Flag Store's US flags, and is extremely durable and long lasting.
State of Maryland Flag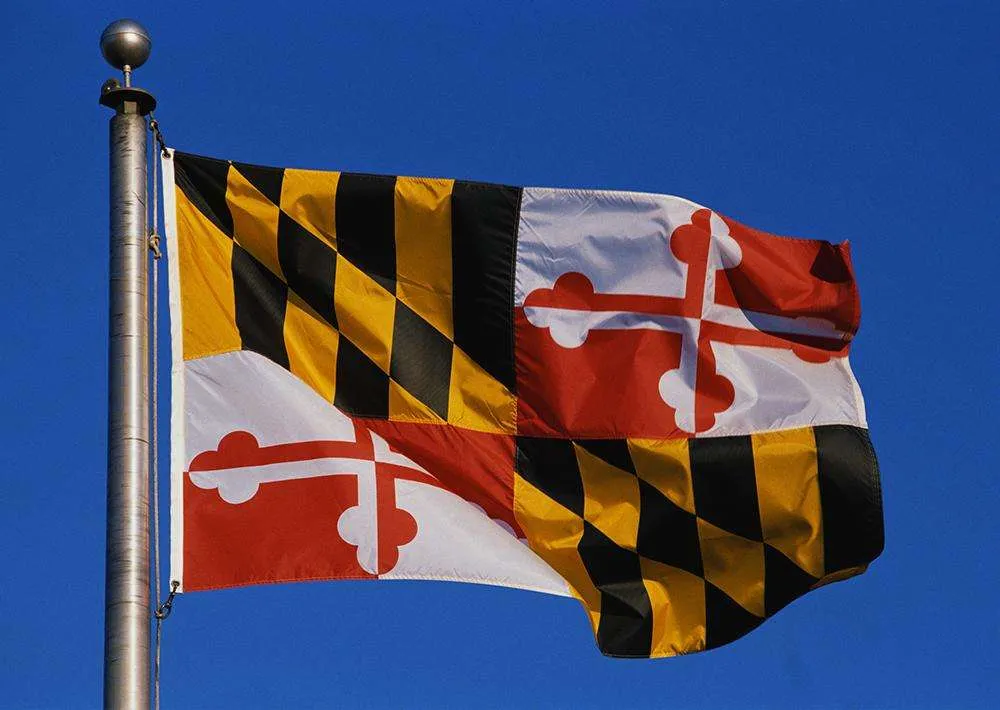 State of Maryland Flag
Year First Flown: 1904

Designed By: Based on the banner of Sir George Calvert of England

Design: A flag divided into four equal quarters. The top left and bottom right are the same black and gold design that represents the English Calvert family. The top right and bottom left are the red and white arms that represents the English Crosslands family.

Meaning: George was the first Lord of Baltimore and was given the black and gold coat of arms, which incorporated the colors of his father's family. The red and white arms belonged to the Crosslands family, George Calvert's maternal family, in 1622. The Calverts founded Maryland as a British colony in 1632, and the state was named after Queen Henrietta Maria.
History of the Flag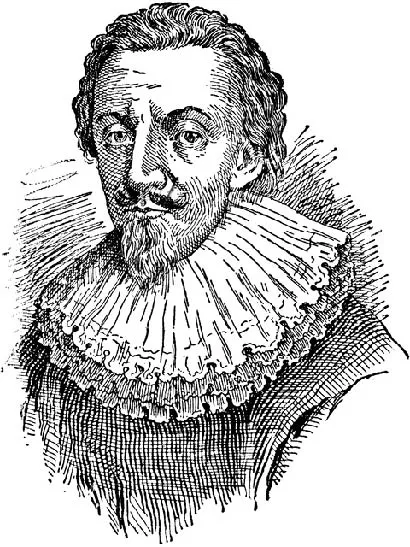 George Calvert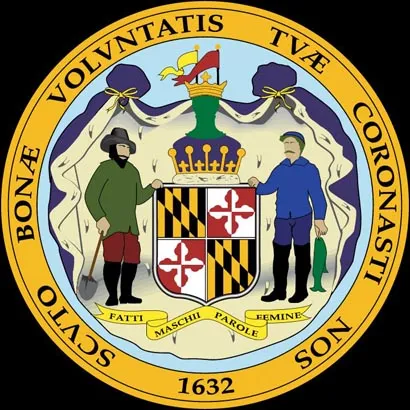 The Great Seal of Maryland
The Maryland state flag was officially adopted on March 9th, 1904 and was (and still is) the only U.S. state flat to be completely based on heraldic emblems. The flag's design is based on the coat of arms of the Calvert family, who were the original colonial proprietors of Maryland. A similar flag was originally flown throughout the colonial period before the revolution, but after the American Revolution was discontinued. In 1854 a law was passed by Maryland Legislature in order to create a state seal that was based on the Calvert family colors and design. All of a sudden, gold and black banners and flags started popping up across the state. These "Maryland colors", as they were often referred to as, weren't officially adopted by the state but became a very popular symbol of the state of Maryland. At the start of the Civil War, Maryland was torn between its allegiance to the Union and its sympathies towards the southern states. Maryland remained in the union, but those citizens that sympathized with southerners began to use the red and white Crossland colors as a sign of resistance to the Union and known as the "Maryland secession colors". After the Civil War ended, a new symbol of the yellow/gold and red/white colors combined became popular. What had once been a sign of a division among Maryland had now been put together to symbolize the reunion of all of Maryland's citizens. The design that is now the official flag of Maryland became a popular flag and was flown throughout the end of the 19th century as an unofficial flag of Maryland until it was finally officially adopted in 1904.