Nevada State Flags - Nylon & Polyester - 2' x 3' to 5' x 8'
Write a Review
|
Product Code:
60-100-10266
2' x 3' - Nylon - PN: 60-100-10266
Price $29.00
3' x 5' - Nylon - PN: 64-100-10056
Price $41.00
3' x 5' - Polyester - PN: 64-100-10232
Price $55.49
4' x 6' - Nylon - PN: 60-100-10057
Price $69.49
4' x 6' - Polyester - PN: 64-100-10233
Price $82.95
5' x 8' - Nylon - PN: 60-100-10182
Price $91.49
5' x 8' - Polyester - PN: 64-100-10234
Price $129.95
2' x 3' - Nylon - PN: 60-100-10266
Your Price $29.00
Accessories
U.S. Flag Set - 2' x 3' Embroidered Nylon Flag and 6' Spinning Flag Pole
6' Spinning Residential Flag Pole | Pole Only
2-Way Bracket - White Nylon
Stamped Steel Flag Pole Bracket - For 3/4" Pole Diameter - Silver
Outdoor Nylon US State Flag
U.S. Flag Store's Nevada State Flag is printed in America on Nylon flag fabric. Since this flag is made in America, U.S. Flag Store is able to ensure that the complex State emblems are printed with accuracy, sharp detail and bright colors. This outdoor Nevada State Flag is finished with the same high quality materials as all of U.S. Flag Store's US flags, and is extremely durable and long lasting.
State of Nevada Flag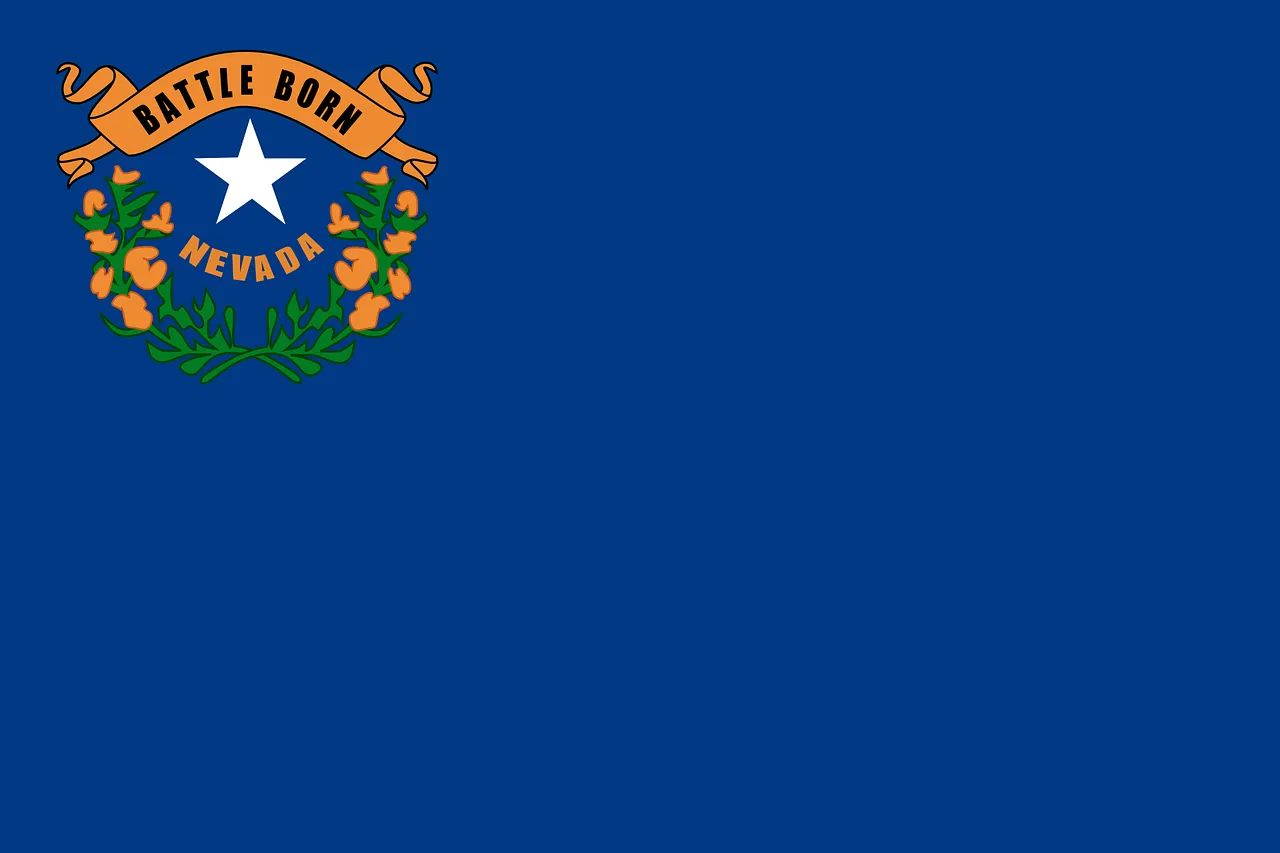 State of Nevada Flag
Year First Flown: 1929

Designed By: Louis Shellback III

Design: A blue flag with a design in the upper left corner that consists of two crossed sprigs of sagebrush, a ribbon with the Nevada state slogan "Battle Born", a silver star, and the name "NEVADA".

Meaning: The sagebrush flower is used in the flag design because it is the Nevada state flower. The Nevada state slogan "Battle Born" is a reference to the fact that Nevada became a state during the American Civil War. The silver five-point star symbolizes Nevada's mineral wealth.
History of the Flag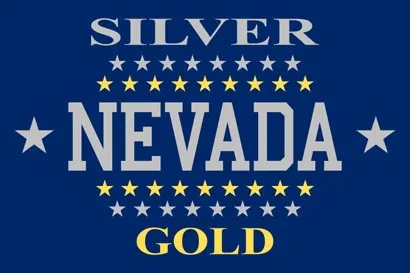 1905 Nevada State Flag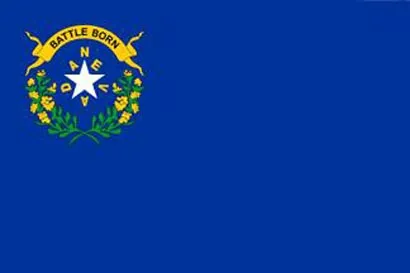 1929 Nevada State Flag
In 1864, Nevada joined the Union as the 36th state. The first flag of Nevada was created by Governor John Sparks and Colonel Harry Day in 1905. The flag had a dark blue field and strongly featured Nevada's natural resources of silver and gold. Ten years later, in 1915, the flag was changed to display the Nevada Coat of arms and 36 gold stars. Then, in 1926, Governor Maurice Sullivan decided that the flag should be changed once again. Sullivan believed that the flag was too intricate and expensive to make and buy, preventing it from being used more frequently all over the state. Governor Sullivan though a simpler design would allow for more widespread use throughout the state, especially in schools and classrooms. So, in June of 1926, it was announced that there would be a contest held to find a new design for the Nevada state flag and that the winner would be awarded $25.00. Louis Shellback's design won the contest and was submitted to Nevada Legislature, but there was a disagreement about the placement of the word "NEVADA". In 1929 the Nevada Legislature finally reached a compromise and the new flag was officially adopted by a bill signed by Governor Fred B. Balzar. In 1991, the the placement of the word "NEVADA" was changed from a clockwise circle around the star to a straight line under the star. This was the last change made to the flag, and the design has remained unchanged ever since.