Oklahoma State Flags - Nylon & Polyester - 2' x 3' to 5' x 8'
Write a Review
|
Product Code:
64-100-04092
Oklahoma State Stick Flag 12" x 18" - Cotton - 144 Minimum Order - PN: 64-100-04092
Price $3.70
2' x 3' - Nylon - PN: 60-100-10220
Price $29.00
3' x 5' - Nylon - PN: 64-100-10072
Price $41.00
3' x 5' - Polyester - PN: 64-100-10427
Price $61.49
4' x 6' - Nylon - PN: 60-100-10073
Price $69.49
4' x 6' - Polyester - PN: 64-100-10394
Price $88.49
5' x 8' - Nylon - PN: 60-100-10188
Price $91.49
5' x 8' - Polyester - PN: 64-100-10124
Price $131.95
Oklahoma State Stick Flag 12" x 18" - Cotton - 144 Minimum Order - PN: 64-100-04092
Your Price $3.70
Accessories
U.S. Flag Set - 2' x 3' Embroidered Nylon Flag and 6' Spinning Flag Pole
6' Spinning Residential Flag - Pole Only
2-Way Flag Pole Bracket - White Nylon
Outdoor Nylon US State Flag
U.S. Flag Store's Oklahoma State Flag is printed in America on Nylon flag fabric. Since this flag is made in America, U.S. Flag Store is able to ensure that the complex State emblems are printed with accuracy, sharp detail and bright colors. This outdoor Oklahoma State Flag is finished with the same high quality materials as all of U.S. Flag Store's US flags, and is extremely durable and long lasting.
State of Oklahoma Flag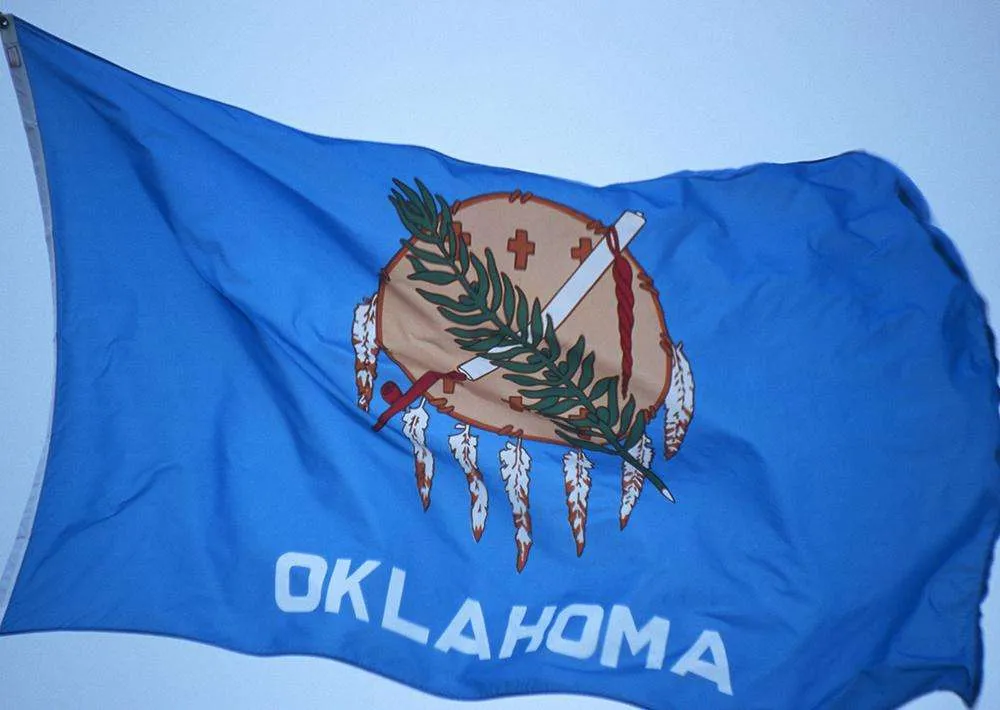 State of Oklahoma Flag
Year First Flown: 1925 (original); 1941 (updated)

Designed By: Mrs. George Fluke, Jr.

Design: A blue flag with an Osage warrior's shield placed in the center. The shield is made of buffalo hide, adorned with seven eagle feathers, and decorated with six crosses. On top of the shield there is a Native American calumet, also known as a peace pipe, and an olive branch.

Meaning: The blue color of the flag is supposed to be the same color of the flag carried by Choctaw soldiers in the American Civil War and signifies loyalty. The shield is used to symbolize the Native American history of Oklahoma and Oklahoma's promise to protect its people and its nation. The feathers and crosses that decorate the shield represent stars and the high ideals that men should work towards. Finally, the peace pipe and the olive branch are similar signs of peace for the Native Americans and Europeans.
History of the Flag
The flag that the state of Oklahoma uses today is not the first flag that the state has officially adopted. In 1911, Oklahoma adopted a flag that was very simple and used the same color palette as the American Flag. The flag had a red field, a white five-point star outlined in blue, and the number "46". The number was used to symbolize Oklahoma as the 46th state to enter the Union. However, the flag began to fall in popularity after the Russian Revolution in 1917. The flag's design was considered to similar to the symbols of Communism, and many citizens of Oklahoma wanted a new flag design for their official state flag. In 1924, a contest was announced and contestants were asked to submit designs that more accurately displayed the unique and diverse characteristics of Oklahoma. A design by Mrs. George Fluke, Jr. won the contest, and her design was officially adopted on April 2nd, 1925. Fluke designed a light blue flag featuring an Osage battle shield decorated with eagle feathers, an olive branch, and a peace pipe. It made sense for the flag of Oklahoma to pay tribute to Native American history, as it was the state with the greatest number of Native American citizens. In 1941, a small change was made to the flag and the name "OKLAHOMA" was placed below the shield.