Pennsylvania State Flags - Nylon & Polyester - 2' x 3' to 5' x 8'
Write a Review
|
Product Code:
60-100-10272
2' x 3' - Nylon - PN: 60-100-10272
Price $29.00
3' x 5' - Nylon - PN: 64-100-10076
Price $41.00
3' x 5' - Polyester - PN: 64-100-10429
Price $64.49
4' x 6' - Nylon - PN: 60-100-10077
Price $69.49
4' x 6' - Polyester - PN: 64-100-10474
Price $89.49
5' x 8' - Nylon - PN: 60-100-10136
Price $91.49
w/ Pole Hem & Fringe 5' x 8' - Nylon - PN: 64-100-10135
Price $99.95
5' x 8' - Polyester - PN: 64-100-10354
Price $134.95
2' x 3' - Nylon - PN: 60-100-10272
Your Price $29.00
Accessories
U.S. Flag Set - 2' x 3' Embroidered Nylon Flag and 6' Spinning Flag Pole
6' Spinning Residential Flag - Pole Only
2-Way Flag Pole Bracket - White Nylon
Outdoor Nylon US State Flag
U.S. Flag Store's Pennsylvania State Flag is printed in America on Nylon flag fabric. Since this flag is made in America, U.S. Flag Store is able to ensure that the complex State emblems are printed with accuracy, sharp detail and bright colors. This outdoor Pennsylvania State Flag is finished with the same high quality materials as all of U.S. Flag Store's US flags, and is extremely durable and long lasting.
State of Pennsylvania Flag
State of Pennsylvania Coat of Arms
Year First Flown: 1799

Designed By: Official Flag Commission

Design: A blue flag with the Pennsylvania coat of arms placed in the center. The coat of arms consists of: an American eagle, two horses, a whip, a plow, three bundles of wheat, an olive branch, a cornstalk, and the state's motto "Virtue Liberty and Independence".

Meaning: The ship is included to represent the commerce of Pennsylvania, while the plow is a symbol of Pennsylvania's resources and agriculture. The three bundles of wheat symbolize fertility of the land and its people, while the olive branch and cornstalk stand for peace and success.
History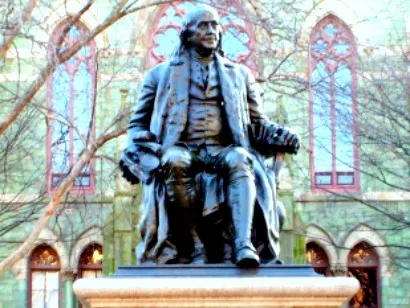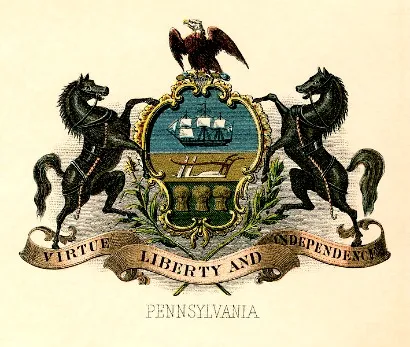 Pennsylvania, one of the original U.S. colonies, became an official state on December 12th, 1787. While the flag was not officially adopted until 1799, it originated at an earlier date. There is no clear and concrete evidence that Pennsylvania used one particular flag in its colonial days. However, it is known that Benjamin Franklin designed some military flags for the state in 1747. These designs were used throughout the American Revolutionary War by the state of Pennsylvania, and eventually influenced the design of the state's coat of arms and official state flag. In 1799, Pennsylvania Legislation officially adopted a state flag that had a dark blue field and was decorated with the state's coat of arms. On June 13th, 1907, the General Assembly of Pennsylvania announced that in order to be official the state flag must be the same blue as the blue found in the American Flag.