U.S. Flag Set - 3' x 5' Embroidered Nylon Flag and 5' Spinning Flag Pole
Write a Review
|
Product Code:
60-100-00601
Accessories
6' Spinning Residential Flag Pole | Pole Only
2-Way Bracket - White Nylon
American Home Flag Set
The American Home Nylon U.S. Flag set comes with everything you need to easily fly a US flag outside of your home. The U.S. flag set comes with an embroidered nylon 3' x 5' U.S. Flag, spinning flag pole, adjustable wall mounting bracket and mounting hardware. This U.S. flag set is the perfect way to fly a U.S. flag without a space consuming in-ground pole. The nylon U.S. flag is made in America and has embroidered stars and sewn stripes. Nylon U.S. flags will fly in gentle breezes, and embroidered US flags look better and last longer than printed US flags. The spinning flag pole prevents the US flag from tangling, and the bracket can be adjusted to 13 different positions.
The American Home Flag Set includes:
3' x 5' embroidered nylon U.S. flag
5' spinning flag pole with 1" diameter
Adjustable bracket - can be adjusted to 13 different positions
Wall mounting screws included
Made in the USA
For use with poles 5' and above
Download the instructions for use by clicking here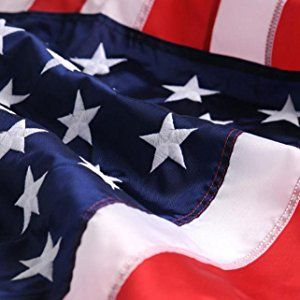 Quality Materials for the Longest Lasting Flags
Commercial-grade heavy duty 200 Denier solar colorfast nylon is guaranteed for 1 year against fading. Each Allied flag utilizes an industrial strength chain stitch for the highest levels of extended durability. Flag life expectancy is increased by 35% due to Allied's proprietary flag manufacturing process.
Each flag is a certified genuine Berry compliant government spec flag, with 100% of the raw materials sourced and made in the U.S.A. Allied is the largest supplier of flags to the United States government, supplying both state & federal agencies. All flags are produced in Allied's ISO9001 2015 compliant manufacturing facility, located in Kansas City, MO.
The Best Flag 3X5 Nylon Flag Kit Available Today
Complete kit includes everything needed for an easy, worry-free 2-minute installation. Our flag kits are backed by Allied's ironclad 100% hassle-free satisfaction guarantee.
Allied's flag kit features new Never-Tangle Technology, which utilizes sealed weather-proof ball bearings. Never-Tangle Technology ensures your flag will always hang properly. Allied's premium flag kit utilizes stainless & polymer hardware attachments to prevent rusting and corrosion in all conditions.
Allied's premium flag kit features a heavy-duty 4-point universal bracket that allows for direct mounting to homes or flat surfaces. For curved or rounded pole mounting applications, the bracket features an available internal pass-through cinch design to accommodate any mounting requirements. This bracket features a 13 position 180 degree adjustable mount. The bracket is made of a forged casting design. It is oven-cured in a brilliant white powder coat to ensure a rust and oxidation-free install in any environment.
Allied premium flag kit accurately displays the American flag to meet the flag etiquette standards as established by the United States Congress.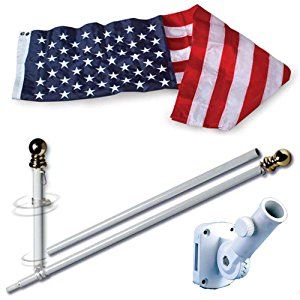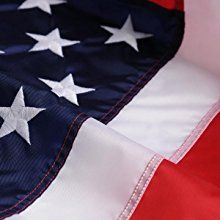 Stitched Stripes
Stripes are back stitched utilizing an extra strength chain stitch for additional strength and resilience. Fly hems are reinforced with 4 rows of extra-strong stitching for maximum durability. Allied Flags are purposely engineered to be the most resilient in the industry by utilizing superior materials & precision craftsmanship.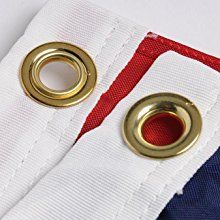 100% Solid Brass Hardware
Allied Flags utilize 2 solid brass U.S. made grommets for the ultimate in rust-resistance. Hardware is sewn into our extra-thick poly-duck header, and are custom made to be impervious to harsh weather. Allied Flags are engineered to add strength where flags need it most.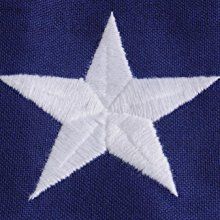 Government Spec Embroidered Stars
Allied Flag star fields are embroidered with colorfast Tex 45 polyester thread to keep them looking bright and clear in all conditions. Allied Flags boast the tightest and most precise star fields in the industry. Stars are embroidered in an ISO9001 2015 compliant factory on Swiss-made embroidery machines.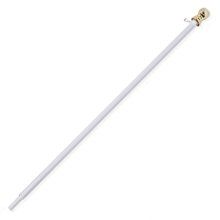 Tangle-Free Spinning Flag Pole
Includes 5' spinning flag pole for the perfect outdoor flag display. Flag set includes an adjustable wall bracket & mounting screws for multiple display options. Spinning flag poles assure your flag is always hanging as intended, and is not wrapped around the pole. Internal weather-proofed ball bearings ensure your flag can spin freely without getting tangled.