Washington State Flags - Nylon & Polyester - 2' x 3' to 5' x 8'
Write a Review
|
Product Code:
60-100-10278
2' x 3' - Nylon - PN: 60-100-10278
Price $35.49
3' x 5' - Nylon - PN: 64-100-10095
Price $58.00
4' x 6' - Nylon - PN: 60-100-10096
Price $74.49
3' x 5' - Polyester - PN: 64-100-10436
Price $115.95
5' x 8' - Nylon - PN: 60-100-10194
Price $117.49
4' x 6' - Polyester - PN: 64-100-10480
Price $170.49
5' x 8' - Polyester - PN: 64-100-53008
Price $245.95
2' x 3' - Nylon - PN: 60-100-10278
Your Price $35.49
Accessories
U.S. Flag Set - 2' x 3' Embroidered Nylon Flag and 6' Spinning Flag Pole
6' Spinning Residential Flag - Pole Only
2-Way Flag Pole Bracket - White Nylon
Outdoor Nylon US State Flag
U.S. Flag Store's Washington State Flag is printed in America on Nylon flag fabric. Since this flag is made in America, U.S. Flag Store is able to ensure that the complex State emblems are printed with accuracy, sharp detail and bright colors. This outdoor Washington State Flag is finished with the same high quality materials as all of U.S. Flag Store's US flags, and is extremely durable and long lasting.
State of Washington Flag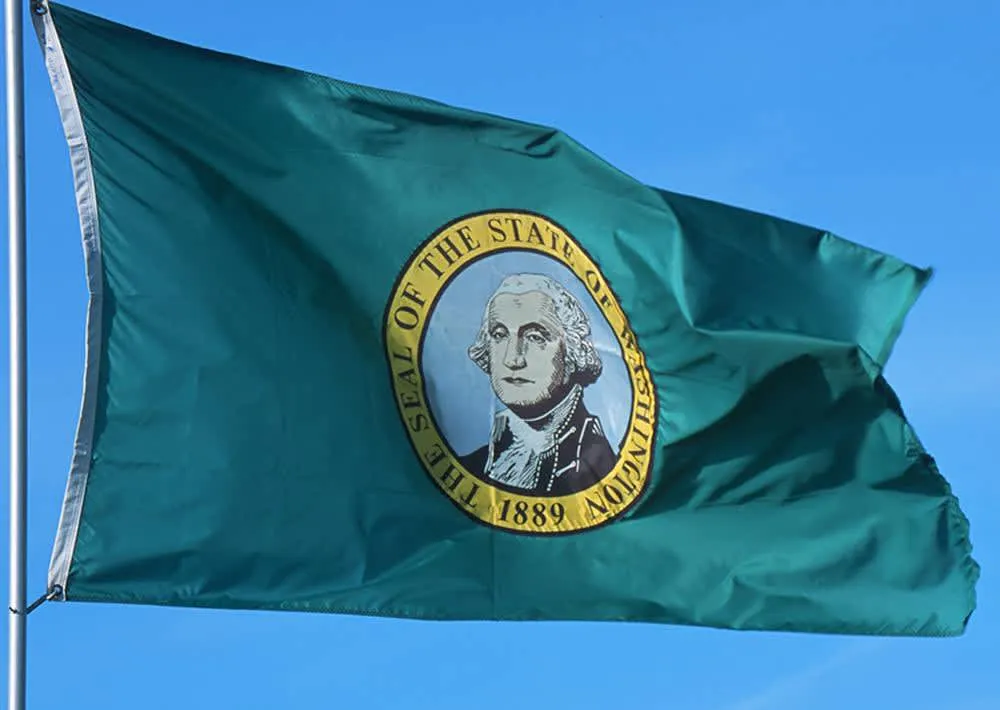 Year First Flown: 1923

Designed By: Official Flag Commission

Design: A green flag with the Great Seal of Washington placed in the center. The seal is a portrait of George Washington inside of a yellow circle with the text "The Seal of the State of Washington 1889" written on it.

Meaning: The date on the seal, 1889, is the year that Washington gained its statehood and joined the Union. The green of the flag represents the state nickname, "The Evergreen State".
History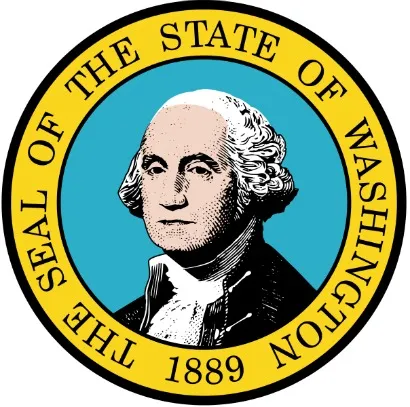 The state of Washington was first admitted to the Union on November 11th, 1889. An official flag was not adopted by the state until 1923, but before that different organizations and citizens created unofficial flags that featured George Washington in some way. One popular unofficial flag flown in the early 20th century had a blue background and a gold profile of President George Washington in the center. Others featured a green or purple background and some version of the Great Seal of Washington. An official Washington State Flag was officially adopted by state legislature on May 5th, 1923. In the bill, the flag was described as "...of dark green silk or bunting and shall bear in its center a reproduction of the seal of the state of Washington..." The original flag law stated that there may be gold or green edging or fringe on the flag, but in 1925 this was changed to only allow a gold edging that was the same shade of gold as the seal. Besides this small change, the design of Washington's state flag has remained the same since 1923. Washington's state flag is the only one in the U.S. to have a green field or an image of a real person on it.