Wisconsin State Flags - Nylon & Polyester - 2' x 3' to 5' x 8'
Write a Review
|
Product Code:
60-100-10150
2' x 3' - Nylon - PN: 60-100-10150
Price $29.00
3' x 5' - Nylon - PN: 64-100-10099
Price $41.00
3' x 5' - Polyester - PN: 64-100-10438
Price $64.49
4' x 6' - Nylon - PN: 60-100-10100
Price $69.49
4' x 6' - Polyester - PN: 64-100-10482
Price $89.49
5' x 8' - Nylon - PN: 60-100-10151
Price $91.49
5' x 8' - Polyester - PN: 64-100-10536
Price $134.95
2' x 3' - Nylon - PN: 60-100-10150
Your Price $29.00
Accessories
U.S. Flag Set - 2' x 3' Embroidered Nylon Flag and 6' Spinning Flag Pole
6' Spinning Residential Flag - Pole Only
2-Way Flag Pole Bracket - White Nylon
Outdoor Nylon US State Flag
U.S. Flag Store's Wisconsin State Flag is printed in America on Nylon flag fabric. Since this flag is made in America, U.S. Flag Store is able to ensure that the complex State emblems are printed with accuracy, sharp detail and bright colors. This outdoor Wisconsin State Flag is finished with the same high quality materials as all of U.S. Flag Store's US flags, and is extremely durable and long lasting.
State of Wisconsin Flag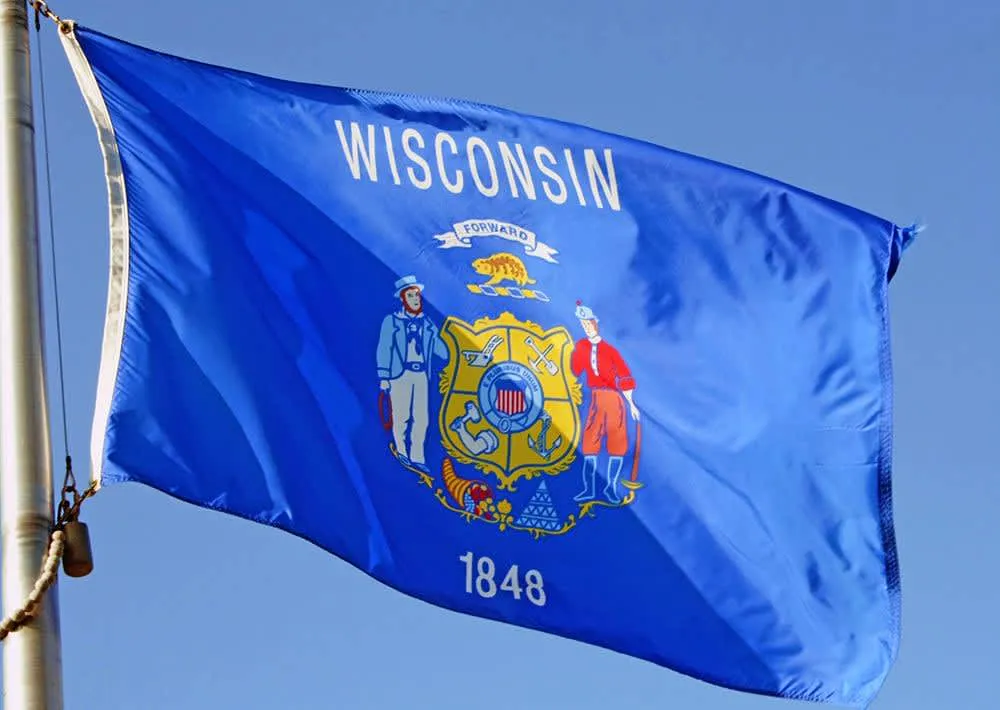 Year First Flown: 1863

Designed By:

Design: A blue flag with the Wisconsin coat of arms placed in the center, the name "Wisconsin" placed above the seal, and the date "1848" placed below the seal. The seal contains images of: a badger, a plow, a pick and shovel, an arm and hammer, an anchor, a sailor, a miner, a cornucopia, and a pyramid of lead.

Meaning: The badger is in the coat of arms because it is the state animal of Wisconsin. The year on the flag, 1848, is the year that Wisconsin gained its statehood. The shield is divided into four quarters, with each quarter representing one of the main industries of Wisconsin. In the top left corner a plow represents agriculture, in the top right corner a pick and shovel represent mining, in the bottom left corner an arm with a hammer stands for manufacturing, and in the bottom right corner an anchor symbolizes navigation. Holding the shield are a sailor and a miner, who signify the importance of labor on both the land and the sea. At the feet of the two men is a cornucopia to symbolize prosperity, and a pyramid of lead to represent mineral wealth.
History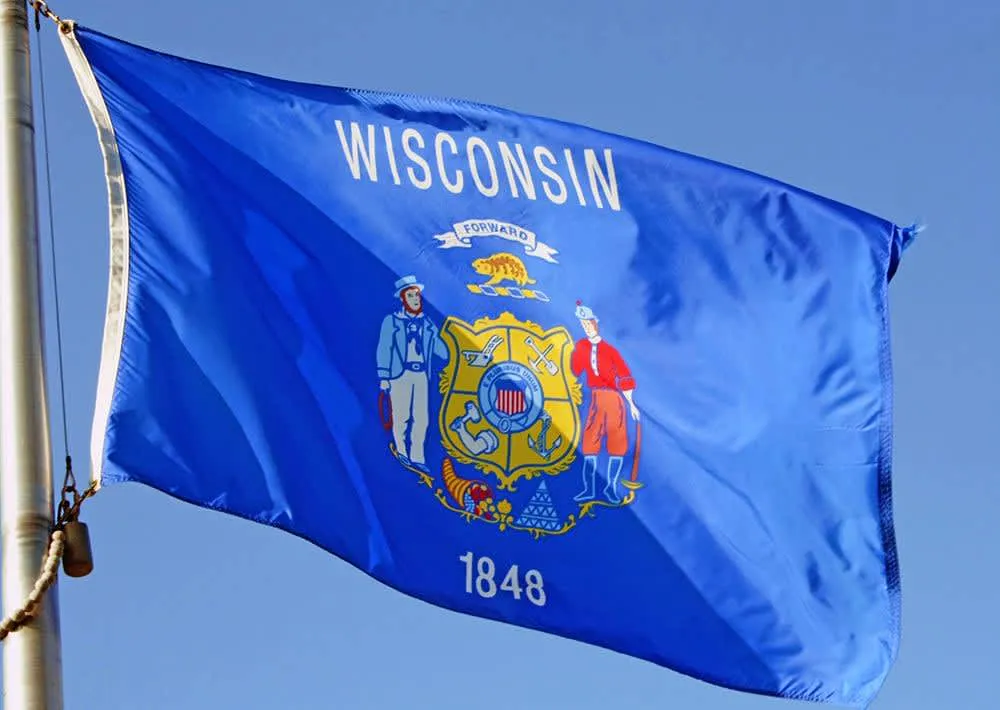 On May 29th, 1848, Wisconsin became a state and joined the U.S. Union. By 1863, the American Civil War had been raging for two years and Wisconsin still did not have an official state flag. The Wisconsin regiments fighting for the Union requested an official banner to fly, as most other regiments from other states had a flag or banner to represent the state they hailed from. Wisconsin Legislature formed a committee to respond to the requests of the regiments, which resulted in the adoption of Join Resolution No. 4. This resolution stated that a flag design that was similar to one already being used by some Wisconsin regiments in an unofficial capacity would become the official state flag. The flag had a dark blue background and the state coat of arms placed in the center, very similar to the flag that is used today. In 1913, the design of the state flag was specified in state statutes in order to prevent any discrepancies among different flag manufacturers. The original flag design remained unchanged until 1979, when two additions were made. Some citizens of Wisconsin felt that their flag was indistinguishable from other state flags, so the name "WISCONSIN" was placed above the seal and the date "1848" was placed below it.