US Flag Store has over 50 years of experience helping our customers find the flag that best suits their needs. We have compiled a guide to help ease the buying process. Should you have any additional questions, you can contact us by e-mail or give us a call at 1-888-932-3524. We're happy to help!
What to consider when purchasing a flag:
American Made
Purchasing an American-made flag both supports the U.S. economy and ensures that you are receiving a superior product made from the best materials to withstand all conditions.
Fabrics
Nylon

- The most popular fabric choice for flags today. Nylon flags offer specific advantages over other flag materials, such as the ability to fly in lower wind due to the lighter materials. Nylon features brighter and more vibrant colors. Most importantly, nylon can withstand the elements and dries quickly.
The poly duck header is engineered to withstand harsh weather, the addition of 2 solid brass grommets assures that your Nylon Flag will resist rusting and last longer. Every single component of our Nylon American flag is 100% sourced from the American raw components. The thread, sewn nylon stripes, star field, and grommets are all American raw materials.

Polyester

- The most durable fabric choice for flags available on the market. Our polyester flags are constructed with a durable 2-ply spun-woven polyester fabric. This luxurious fabric provides brighter, fade resistant colors; and includes an open weave to reduce wind resistance and flying ability. These polyester U.S. flags are the perfect choice for high-wind areas. The fly hem is reinforced by four rows of double-needle stitching with tough back-stick reinforcement.
For flags that are smaller than 8' x 12', they are equipped with durable brass grommets. For all larger polyester U.S. flags, heavy duty galvanized metal thimbles are used.

Cotton

- Classic cotton U.S. flags are the perfect option for commemorative displays both inside and outside. Made 100% in the United States in Kansas City, MO; these flags are constructed from a durable 2-ply cotton weave. The colors are incredibly rich and vibrant, which will make these cotton U.S. flags perfect for displaying proudly. These flags feature double-needle seams with machine embroidered stars and solid brass grommets.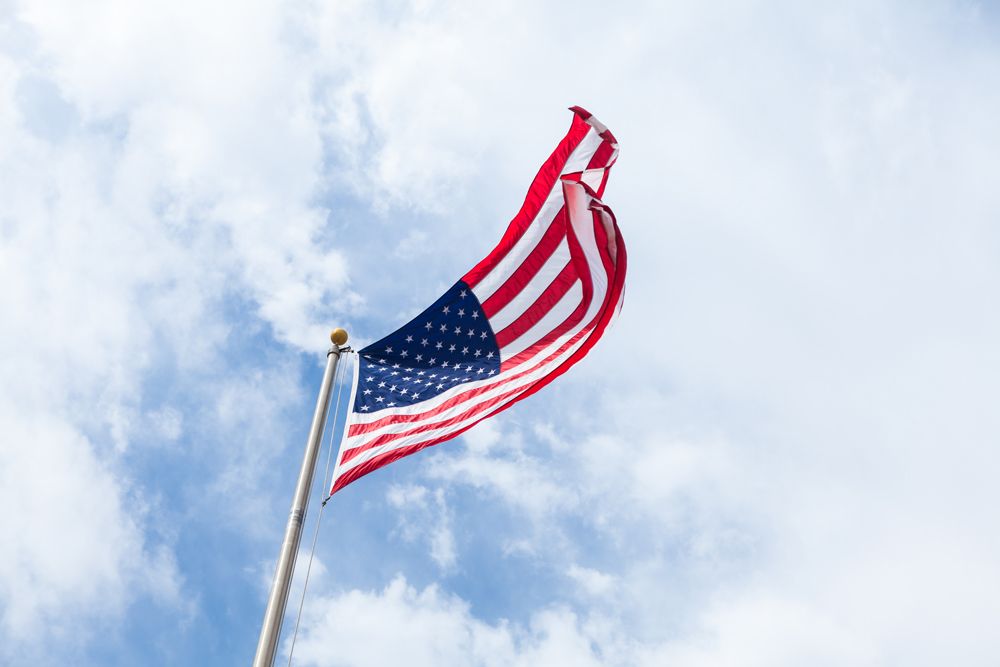 Flag Size & Flag Pole
The typical size of a flag used at a residence is 3'x5'. The image and guide below provides details on flagpole heights and accompanying flag sizes in residential and commercial settings.
20′ flagpole / 3′ X 5′ or 4′ X 6′ flag
25′ flagpole / 5′ X 8′ flag
30′ – 35′ flagpole / 6′ X 10′ flag
40′ – 45′ flagpole / 8′ X 12′ flag
50′ flagpole / 10′ X 15′ flag
60′ – 65′ flagpole / 10′ X 19′ flag
70′ – 80′ flagpole / 12′ X 18′ flag
90′ – 100′ flagpole / 20′ X 38′ flag

Quality of Construction
Flags first show signs of wear in the seams and edges. Our flags are made from the highest quality materials and strongest seams.
Price & Guarantee
Low cost alternatives most likely are foreign-made with cheap materials and poor craftsmanship, resulting in quick wear and excess costs for replacements over time. We make our flags 100% in the United States and guarantee the highest quality.