Florida State Flags - Nylon & Polyester - 2' x 3' to 5' x 8'
Write a Review
|
Product Code:
60-100-10254
2' x 3' - Nylon - PN: 60-100-10254
Price $29.00
3' x 5' - Nylon - PN: 64-100-10018
Price $41.00
3' x 5' - Polyester - PN: 64-100-10350
Price $64.49
4' x 6' - Nylon - PN: 60-100-10019
Price $69.49
4' x 6' - Polyester - PN: 64-100-10392
Price $89.49
5' x 8' - Nylon - PN: 60-100-10216
Price $91.49
5' x 8' - Polyester - PN: 64-100-10507
Price $175.00
2' x 3' - Nylon - PN: 60-100-10254
Your Price $29.00
Accessories
U.S. Flag Set - 2' x 3' Embroidered Nylon Flag and 6' Spinning Flag Pole
6' Spinning Residential Flag - Pole Only
2-Way Flag Pole Bracket - White Nylon
Outdoor Nylon US State Flag
U.S. Flag Store's Florida State Flag is printed in America on Nylon flag fabric. Since this flag is made in America, U.S. Flag Store is able to ensure that the complex State emblems are printed with accuracy, sharp detail and bright colors. This outdoor Florida State Flag is finished with the same high quality materials as all of U.S. Flag Store's US flags, and is extremely durable and long lasting.
State of Florida Flag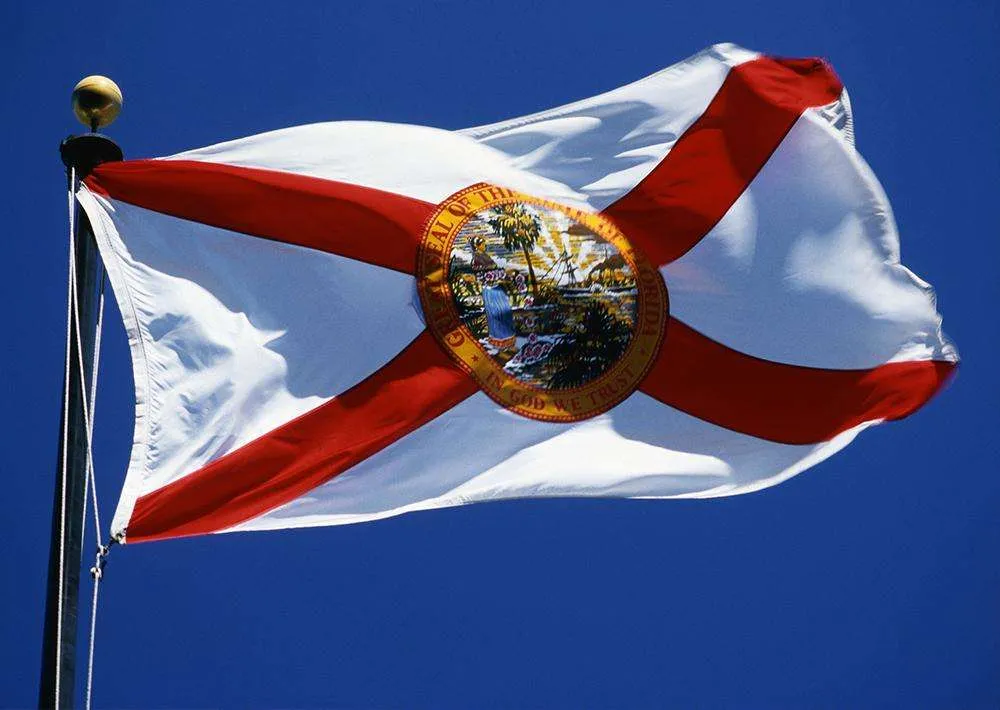 State of Florida Flag
Year First Flown: 1900

Designed By: Official Commission

Design: A white flag with two stripes of red reaching from corner to corner and crossing diagonally in the center. On top of the point where the two stripes cross is the Florida State Seal, which consists of a Native American Seminole woman scattering flowers on the water near a palmetto palm tree (Florida's state tree) and a ship sailing in the background.

Meaning: The flag's design is meant to resemble the Confederate battle flag, which had a similar cross shape on it. The state seal symbolizes the beauty and sunshine of the state of Florida.
History
The Lone Star and Stripes
The state of Florida joined the United States of America and became the 27th state on March 3rd, 1845. Up until the Civil War, Florida didn't have an official flag to fly over its land. After Florida seceded from the Union in 1861 the state used a flag called "The Lone Star and Stripes" that was very similar to the American Flag but only had one star. As a member of the Confederate States of America, Florida also flew the Confederate flag and the Bonnie Blue Flag (an unofficial flag of the Confederacy). In 1865, Florida finally fell to the Union and was the second to last Confederate state to do so. After Florida agreed to the requirements of Reconstruction the state's representatives were readmitted to Congress and Florida was completely restored to the United States of America on July 25th, 1868. Between 1868 and 1900, the flag of Florida was a simple white flag with the state seal placed in the center of it. In the late 1890's, Florida Governor Francis P. Fleming suggested that Florida add a burgundy diagonal cross to the flag in order to differentiate it from white flags of truce when it was hanging still on a flagpole. In 1900, Floridians approved of Governor Fleming's suggestion and the burgundy cross was added to create the flag that is still Florida's official flag today.