Utah State Flags - Nylon & Polyester - 2' x 3' to 5' x 8'
Write a Review
|
Product Code:
60-100-10275
2' x 3' - Nylon - PN: 60-100-10275
Price $29.00
3' x 5' - Nylon - PN: 64-100-10089
Price $41.00
3' x 5' - Polyester - PN: 64-100-10433
Price $64.49
4' x 6' - Nylon - PN: 60-100-10090
Price $69.49
4' x 6' - Polyester - PN: 64-100-10477
Price $89.49
5' x 8' - Nylon - PN: 60-100-10192
Price $91.49
5' x 8' - Polyester - PN: 64-100-10532
Price $134.95
2' x 3' - Nylon - PN: 60-100-10275
Your Price $29.00
Accessories
U.S. Flag Set - 2' x 3' Embroidered Nylon Flag and 6' Spinning Flag Pole
6' Spinning Residential Flag - Pole Only
2-Way Flag Pole Bracket - White Nylon
Outdoor Nylon US State Flag
U.S. Flag Store's Utah State Flag is printed in America on Nylon flag fabric. Since this flag is made in America, U.S. Flag Store is able to ensure that the complex State emblems are printed with accuracy, sharp detail and bright colors. This outdoor Utah State Flag is finished with the same high quality materials as all of U.S. Flag Store's US flags, and is extremely durable and long lasting.
State of Utah Flag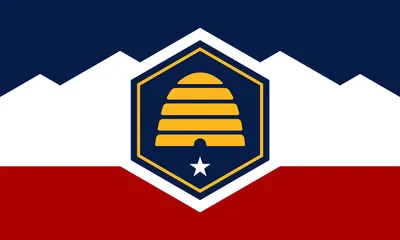 State of Utah Flag
Year First Flown: 2023

Designed By: HLA Culmer

Design:

The Utah state flag was updated to feature a new design that incorporates a blue field with the state seal in the center and a golden circle around it.

Meaning:

The design also includes a beehive, a symbol of hard work and industry, and the date "1847" to commemorate the year Utah was founded. As a result, patriotic and politically conservative consumers can take pride in the state's history and values reflected in the new flag design.
History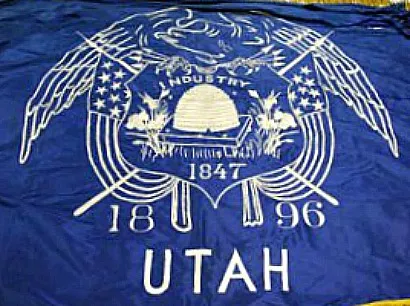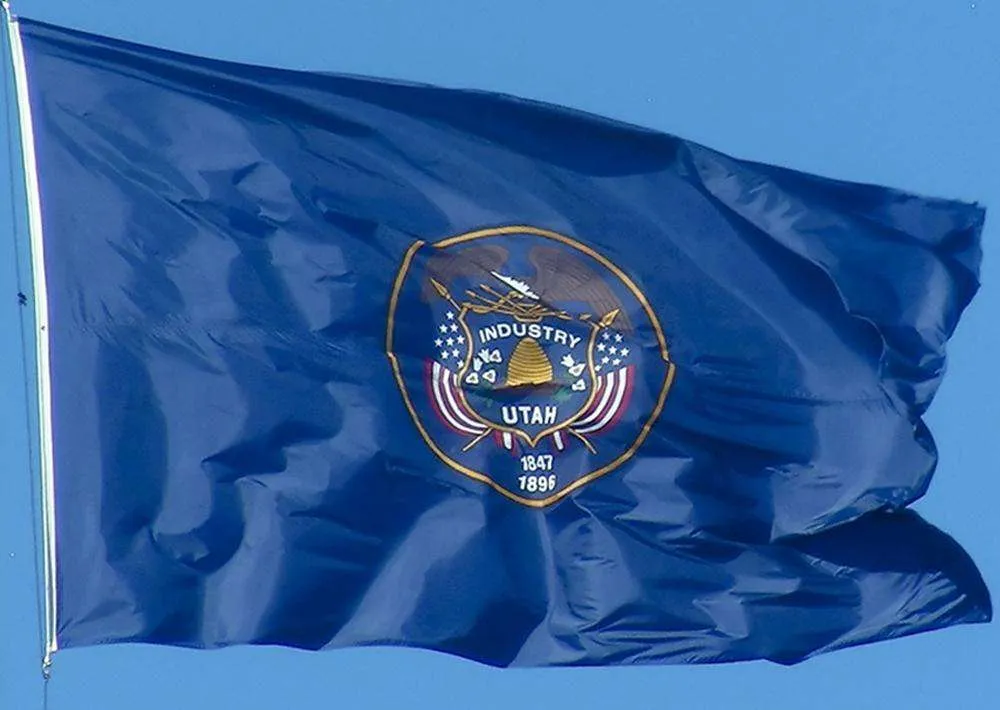 Utah first became a state on January 4th of 1896, and in that same year the Utah State Legislature got to work on an official state flag. This first flag design included a blue backgroundwith a white illustration of The Great Seal of Utah. The flag was finished and adopted by the end of 1896, and went unchanged until 1913. In 1912, the Sons and Daughters of Utah Pioneers had a flag created for the battleship USS Utah. The new flag design consisted of a blue background, an illustration of the Great Seal of Utah in color, and a thin line of gold that encircled the seal. All who laid eyes on this new flag thought it was beautiful and believed that it should be the new official Utah state flag design. Governor William Spry agreed, and officially adopted the new design when he signed the House Joint Resolution in 1913.